The School was established in the year 1956 by Mother Ignatius, a Swiss nun whose foresightedness, deep insight and dedication contributed to its origin .The school is managed by the Congregation of Sisters of St. Joseph of Chambery, Province of Pachmarhi, India. Since then it has grown by leaps and bounds. St. Josephs Convent School made a humble beginning with 12 students, which has now snowballed into an overwhelming strength of over 3,500 students. The school is affiliated to Central Board of Secondary Education, New Delhi from 1986. The school is blessed with 125 competent, qualified and talented staff members who are actively involved in the all round development of the student.
St. Joseph's Convent Senior Secondary School, popularly known as City School has become synonymous with quality education in the city of Bhopal. It is the most sought after private school for girls.

In a world that is increasingly being torn as under by strife and violence, St. Joseph's emphasizes the inculcation of moral values and spiritual awareness in its students so that they can go out into the world as beacons of light and rays of hope and spread universal brotherhood, for future generations. The aims and ideals of the establishment are succinctly encapsulated in the school motto. ' Virtue alone ennobles'. Apart from the constant quest for human and academic excellence the institution also encourages its students to participate in local, state and national level competitions with aview to broadening horizons and equipping them with an international outlook and global vision.

Everybody at St. Joseph's believe that every child is a gift of God to mankind and pride of the human race and we should strive to make her potentially the light of the world. We uphold the view that school is a light house of the society, not just as it is but as it should be. The school creates an atmosphere that is free of all limitations, prejudices and distinctions.

The school integrates curricular teaching with co-curricular activities and sports at Intra and Inter-School level to ensure all round development of the child's personality.
FOUNDERSr.Ignatius Steiert (1956-1962)
Sr. MARGARAET MARY DORSEY
(1962-1968)
Sr.PHILIPPINE FONSECA
(1968-1971)
Sr. PHILIPPA FINNIMORE
(1971-1972)
Sr. MARY CLOTILDE DALGADO
(1972-1974)
Sr. GABRIEL KACHAPILLY
(1974-1982)
Sr. LORRAINE MARIE
(1982-1988)
Sr. FRANCIS REGIS JOSEPH
(1988-1992)
Sr. FRANCIS JOSEPH C.
(1992-2008)
All great ideas begin with a commitment to the future. "Vision gives you the impulse to make the picture you own". Aim of holistic education is to inculcate this vision into a student. For one who has just stepped into this world and begun to toddle the journey of life, falling, getting up, and again faltering every moment is a startling experience of awe, wonder and endless curiosity. This is, perhaps, the most crucial phase of life where the marks we leave, every small scratch and impression play a decisive role in moulding one's personality. The kind of education we impart to a child at St. Joseph's lays the foundation of life and shapes its destiny.

It is with a strong commitment to the quest for excellence in the field of education, that St. Joseph's was established and is making rapid progress in enhancing its potential and changing its outlook towards providing better resources required to impart the best all round quality education laced with morality. It is a matter of pride for everyone associated with our school that we have evolved and successfully implemented a system which caters for the spiritual, aesthetic, physical, intellectual, emotional, national and cultural development of our children. I am delighted to note that the years of thoughtful and result oriented work has always yielded excellent returns. The high quality of work is visible in every undertaking. St. Joseph's will not be complacent with its achievements but strive harder to improve and sustain its level of efficiency, quality and effectiveness. The opportunity of collaboration between teachers and students creates a harmonious and efficient environment that nurtures them for the society. Each one of our staff members has given them the chance to work, to play, to dream and to achieve their goals.

There are challenges ahead of us, however, as I often say, 'Together we can truly make a great difference.' Keeping this in mind, the Josephite family continues to remain committed. To achieve both our vision and mission and I am certain with the support of the management, staff, parents and students the school will reach greater heights in the years to come.

Sincerely, Principal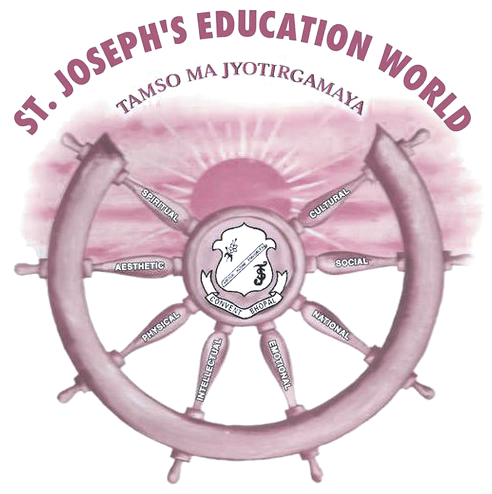 Vision
Spirituality of communion for human excellence
Goal
Holistic education for human excellence
Mision
To make every child a gift of god to mankind and a pride of human race
Every Institution has its own motto to give it a special identity. This motto is inscribed within the emblem which is special to a school, an institution or an organisation. A student studying at St. Joseph's Convent mustknow her motto, the meaning of the School emblem and be worthy of it.

Inscribed within the shield are the words "VIRTUE ALONE ENNOBLES". What makes a girl noble is not her education or the colour of her skin or the race to which she belongs. It is her character, and her character is formed by the practice of certain virtues. Inculcating these virtues is a life-long task. So a student of St. Joseph's has to work at becoming noble all her life. She cannot take a holiday from this work. Wherever she is, wherever she goes and whatever she does, she must remember this important work of becoming noble through the practice of virtues_ It is her prerogative to be kind, gentle, respectful, helpful, cheerful, hard working and enthusiastic at all times. This is what makes her different from others. This is what makes her noble and grea

The Lily is symbolic of our Patron, St. Joseph. Like the Lily, a student of St. Joseph gives to others the soft fragrance of her goodness. the whiteness of the Lily signifies the purity of her thought, word and action. She does or says nothing that will hurt God or her neighbour. She unfolds and blooms like the lily at all times and in all places. The letter S and J stand for SAINT JOSEPH, whose qualities she imitates and develops. Like St. Joseph, She is always available for service in quiet and humble way. She puts her faith in God, her loving Father and looks for ways and means to please Him. Thus, she becomes a true child of God and a worthy student of St. Joseph's Convent. Like St. Joseph, she is sensitive to the feelings of others .Ind careful for their welfare.
The aim of this Educational Institution is the integral formation of the person, who as she grows becomes aware of the world, its people, its diverse cultures, religions and problems and prepares herself to function effectively in one's chosen career, with a quality in her relationship with her creator and with those she comes in contact with, for the ultimate goal of doing everything for the greater glory of God and the good of one's neighbour.

It endeavours to give all-round education (liberal and technical and also physical, moral & spiritual, primarily to Catholics for whose education, the school is established & to the extent possible to children of all other communities.)

The institution enjoys the right to manage, administer and carry on any concern of whatever nature conducive to the material, moral, educational and physical welfare of the School. To achieve this, the sisters draw their inspiration from Jesus Christ who lived and died for the liberation and development of every person The I ife of the Sisters of St. Joseph of Chambery is directed towards one goal; to strive to bring about the union of all people with one another and with God, our Father. To attain this goal, all the members of the school community, parents, pupils, teachers, administrative personnel, work in loving co-operation. They work in a spirit of service with preference for those in greatest need.

However, the main aim of the school is not only to impart instruction but in a spirit of love and service to work for the all-round development of the students and to train intellectual, moral, spiritual, emotional, physical, social and aesthetic faculties. Established primarily forthe education of Catholics, the school is also open to other children, irrespective of religion, caste and language.
Campus
The school has a stimulating environment with adequate and appropriate infra-structural facilities. It is equipped with a well-conceived and well planned school building, housed in a sprawling campus of 11 acres of land on the hill top of Idgah.
School Library
School library is spacious,updated and well stocked with over 12,000 books, newspapers, periodicals, journals, CD/DVD's, good collection of audio video tapes.
Science Laboratories
The school has three scientifically sophisticated science labs, i.e Physics, Chemistry and Biology with modern amenities to cater to the demands of the syllabus and students.
Computer Laboratory
Computer labs are well equipped with latest intel processors based computers with UPS & generator facility.
Sports Laboratory
A gym is provided for health and fitness for students who participate in sports and games
Other Salient Features
◆ School Parliament and House system. ◆ Facilities for games and co-curricular activities.◆ Ashram assemblies and general assembly.◆ Regular in-service training programmes for faculties.◆ Career guidance and counselling.◆ Classwise monthly Mothers' Meets.◆ Monthly Prayer Meets.◆ Honouring of Grand parents of students.◆ Out reach programmes for social service.